by Robert Laurence Binyon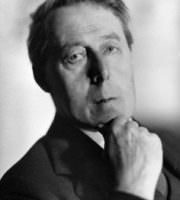 Songs of the world unborn
Swelling within me, a shoot from the heart of Spring,
As I walk the ample teeming street
This tranquil and misty morn,
What is it to me you sing?
My body warm, my brain clear,
Unreasoning joy possesses my soul complete;
The keen air mettles my blood,
And the pavement rings to my feet.
O houses erect and vast, O steeples proud,
That soar serenely aloof,
Vistas of railing and roof,
Dim--seen in the delicate shroud of the frosty air,
You are built but of shadow and cloud,
I will come with the wind and blow,
You shall melt, to be seen no longer, O phantoms fair.
Embattled city, trampler of dreams,
So long deluding, thou shalt delude no more;
The trembling heart thou haughtily spurnest,
But thou from a dream art sprung,
From a far--off vision of yore,
To a dream, to a dream returnest.
Time, the tarrier,
Time the unshunnable,
Stealing with patient rivers the mountainous lands,
Or in turbulent fire upheaving,
Who shifts for ever the sands,
Who gently breaks the unbreakable barrier,
Year upon year into broadening silence weaving,
Time, O mighty and mightily peopled city,
Time is busy with thee.
Behold, the tall tower moulders in air,
The staunch beam crumbles to earth,
Pinnacles falter and fall,
And the immemorial wall
Melts, as a cloud is melted under the sun.
Nor these alone, but alas,
Things of diviner birth,
Glories of men and women strong and fair,
They too, alas, perpetually undone!
As the green apparition of leaves
Buds out in the smile of May;
As the red leaf smoulders away,
That frozen Earth receives;
In all thy happy, in all thy desolate places,
They spring, they glide,
Unnumbered blooming and fading faces!
O what shall abide?
Aching desire, mutinous longing,
Love, the divine rebel, the challenge of all,
Faith, that the doubters doubted and wept her fall,
To an empty sepulchre thronging:
These, the sap of the earth,
Irresistibly sprung,
In the blood of heroes running sweet,
In the dream of the dreamers ever young,
Supplanting the solid and vast delusions,
Hearten the heart of the wronged to endure defeat,
The forward--gazing eyes of the old sustain,
Mighty in perishing youth, and in endless birth,
These remain.
Last updated January 14, 2019