by Robert Laurence Binyon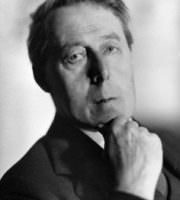 She is eight years old.
When she laughs, her eyes laugh;
Light dances in her eyes;
She tosses back her long hair
And with a song replies;
Then on light feet she darts away
Tripping, mischievously gay.
But now into this room of shadow
Coming slowly with the sun's long ray
And all the morning on her simple hair,
O how serious--eyed
She steps pre--occupied,
Holding a bowl of water
Poised in her fingers' care,--
Water quivering with cool gleams
And wavering and a--roll
Within the clear glass bowl,
That brimmed and luminous seems
A wonder and a shining secrecy,
As if it were the world's most precious thing,
So open--clear that all have passed it by.
Cut stalks of iris lie
On the bare table, flowers and swelling buds
Clasped in close curves up to the purple tips
That shall to--morrow burst
And shoot a splendid wing,
When they have drawn into their veins the spring
Which those young hands, with the drops bright on them,
So all intently bring;
Costless felicity,
Living and unbought!
And over me, O flowers
That neither ask nor sigh,
Comes the thought,
How all this world is wanting and athirst!
Last updated January 14, 2019