by Robert Laurence Binyon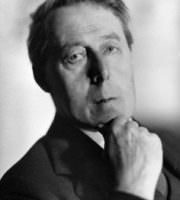 When we said ``I am thine'' and ``I am thine,''
We were as children crying a delight
Their hearts indeed divine
But cannot understand
The perfect wholeness of its depth and height;
Urged by a power beyond our reach
Our tongues outran our hearts in speech:
But now, O now, when we together stand
And lay each trusting hand in hand,
At last within our hearts the rose
Of love doth fearfully unclose
To the full meaning of our marriage vow.
We give not to each other only now
But both are given to one spirit that knows
Our hearts more deeply than we know, and lies
A peace within our peace, and beautifies
Hope, and is wronged in our unhappiness,
Weeps with our tears and suffers in our sighs,
And waits to--day our kiss to solemnize.
O my beloved, my Bride,
Lo where we stand, for whom in love and pride
Unnumbered generations wooed and died;
Their prayers are on us and our heads they bless;
And lo, the generations all to come
Wait for us, praying dumb,
That we be true, and from this day may rise
Life's lovely loyalties
To bind us ever nearer: Cicely,
Take all I am, would it were worthy thee!
And in thy love O make it so to be.
Last updated January 14, 2019