by Malcolm Lowry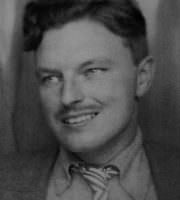 There is no poetry when you live there
Those stones are yours, those noises are your mind,
The forging thunderous trams and streets that bind
You to the dreamed-of bar where sits despair
Are trams and streets: poetry is otherwhere.
The cinema fronts and shops once left behind
And mourned, are mourned no more. Strangely unkind
Seem all new landmarks of the now and here.
But move you toward New Zealand or the Pole,
Those stones will blossom and the noises sing,
And trams will wheedle to the sleeping child
That never rests, whose ship will always roll,
That never can come home, but yet must bring
Strange trophies back to Ilium, and wild!
Last updated September 29, 2022