by Marie Tello Phillips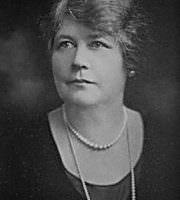 I TRAVELED long in balmy climes
That know not wintry snows
By gleaming sand in sun-kist land
Where Bougainvilleia grows;
Where orange groves with golden globes
Reflect the flashing sun—
The great Sierras mount and soar,
And roaring rivers run.
But Oh! for Pennsylvania, and
A day in dewy May—
The sweet fresh green of early spring
And wild flowers on the way;
The shady wood where trilliums
And nodding violets grow
With ferns in dark moist soil,
Mellowed by wintry snow.
Narcissus and anemone,
And trailing trumpet vines,
The laurel and geranium
With finely painted lines;
Pond-lilies floating on the streams
That water fields in flower
With buttercups and daisies white
Fresh from a limpid shower.
The farm-house in its woody nook,
The red barns here and there;
The fruit trees massed with fragrant blooms,
The bushes, flowering fair;
The wide-spread oak and maple, too,
The birch with shining bark,
The dog-wood and our loved nut trees
That grow in forest dark.
My Pennsylvania, I love you
And your refreshing rains
That make the sleeping plains produce
Your fields of growing grains!
Your sky, whose blue is tempered by
The great white clouds of rain
That shower the thirsty, thankful earth
To make it flower again.
Last updated October 26, 2022