by Maureen Seaton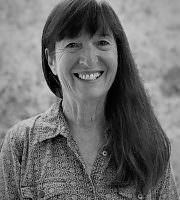 I am all about glass, said the glassblower to the woman who was all about self.
I am in ruins, said the woman, and everyone fears my teeth with their stars and planets.
We went to Bandolier and climbed into the fragile dwellings. The forest had burned down around us and we'd driven through crying.
"You may break a doll or an airplane a thousand feet high in the sky over a desert."—Yoko Ono
It makes sense to be here in the orange porch with the ruby dog and the sun kicking up heat. Broad daylight. I have small and large problems and I've made large and small promises. Because I am alive I wear clothes. Because my head is round I sometimes wear a hat.
The women who sleep in the ground like marigold seeds don't mind the mountain's mumbling. They have embraced utility and settled down with it. Their bones shine with usefulness.
Last updated September 27, 2022