by Sam Walter Foss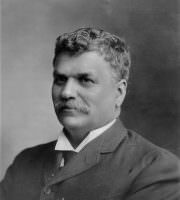 The town of Hay is far away,
The town of Hay is far;
Between its hills of green and gray
Its winding meadows are.
Within the quiet town of Hay
Is many a quiet glen,
And there by many a shaded way
Are homes of quiet men:
And there are many hearts alway
That turn with longing, night and day,
Back to the town of Hay.
Within that good old town of Hay
There was no pride of birth,
And no man there pursued his way
A stranger in the earth;
And none were high and none were low,
Of golden hair or gray,
And each would grieve at other's woe
Down in the town of Hay;
And many a world-scorned soul to-day
Mid crowded thousands far away
Weeps for the town of Hay.
A road leads from the town of Hay
Forth to a world of din,
And winds and wanders far away,—
And many walked therein;
Far in the crowds of toil and stress
Their restless footsteps stray,—
Their souls have lost the quietness
Of that old town of Hay;
But in some respite of the fray,
In transient dreams they float away,
Back to the town of Hay.
Old men are in that town of Hay,
Amid its quiet trees,
Who dream of strong sons far away
Upon the stormy seas;
Old mothers, when the twilight dew
The woodbine leaves have pearled,
Dream of their boys who wander through
The wideness of the world:
And tears fall in the twilight gray,
And prayers go up at close of day
In that old town of Hay.
A hillside in the town of Hay
Is slanting toward the sun,
And gathered 'neath its headstones gray
Are sleepers, one by one;
And there are tears in distant lands,
And grief too deep for tears,
And farewells waved from phantom hands
Across the gulf of years:
And when they place that headstone gray,
It crushes hearts so far away
From that old town of Hay.
Last updated September 22, 2022