by Patience Worth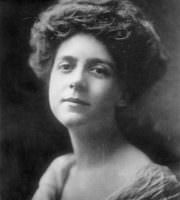 Swing, ye ages! Swing, ye tides!
Like webs upon eternities.
Turn, oh Earth,
Turn upon thy changeful path!
Leave Sorrow wet thy sides of tears.
Leave her dimmed eyes
To bury them upon thy breast,
And cause the seas to sob!
Make new the hates of earth!
Cast wide the portals of Hate's hell!
Leave her consuming flames
To lick the valley's hollow,
And mount the mountain's curve!
Leave the Earth to sweep her path
Like to a crimson torch ablaze,
Searing the heaven's blue,
Setting the vaporous clouds to naught,
Till out the flame shall a sacrifice
Be born, and the ash of love be cast,
Upon the altar of Eternity!
For Hate may but consume Hate,
And the ash of Love remain.
Last updated January 14, 2019