by Patience Worth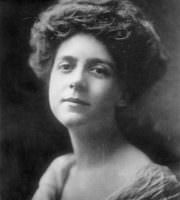 Do I to love the morn, when Earth awakes,
And streams aglint o' sun's first gold,
As siren's tresses flowed them through the fields;
When sky-cup gleameth as a pearl;
When sky-hosts wake, and leaf bowers wave
Aheavied with the dew?
Do I love the eve
When white the moon doth show,
And frost's sweet sister, young night's breath,
Doth stand aglistened 'pon the blades;
When dark the shadow deepeth,
Like to the days agone that stand as wraiths
Adraped o' black along the garden's path;
When sweet the nestlings twitter
'Neath the wing of soft and down,
That hovereth it there within
The shadows deep atop the tree?
Do I to love the mid-hours deep-
The royal color o' the night?
For earth doth drape her purpled,
And jeweled o'er athin this hour.
Do I to love these hours then-
As the loved o' me?
Nay, for at the morn,
Lo, do I to love the eve! And at the eve,
Lo, do I to love the mom!
And at the mom and eve,
'Tis night that claimeth me.
Last updated January 14, 2019