by Peter Balakian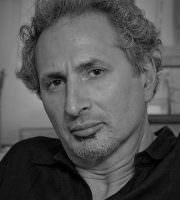 1.
I took a wrong turn into a sun mask
on mud, into straw-glue and smashed yucca.
If you saw them rub feathers on their arms,
if the claws of bear wrapped them,
if the porcupine and badger were sewn to the skin,
if gusts of God flew into lightning-riven wood.
All morning I drove out of one life into another,
through no water and empty self;
I saw the coordinates of a masthead of a wrecked car.
My car took the curve of a curve
just past the exit to Los Alamos
where Oppenheimer said the infinite imploded finite space—
though he couldn't have imagined
the atom pressed into the cave inside the mesa
that opened into the buffalo
who could turn into a bear,
who could be the beast.
2.
She was carried between the horns of the animal.
The grass brushed the sky.
She drank from the horn.
The hill swallowed the dirt,
which became a horn of water.
The horn of water was passed among many.
Many drank while a chief blew yellow powder
through an eagle-winged bone;
space dissolved into a gourd-rattle
that made me feel the heart-shake.
In the dry cold, in the catapult past Jesus
where the bones and kernels
shook in the dry skin, there was relief.
Euclidian infinity dissolved.
I could hear the end of history
in the teeth rattling inside a gourd;
for a second, blue spears
of lightning shot over three women sleeping
under the canopy of a mud house.
The sun poured on all of us.
Copyright ©:
2015, University of Chicago Press
Last updated February 20, 2023