by Peter Balakian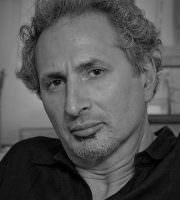 How did the sound of bells come over the cliffs
when the silks on the racks strangled the air—
before they turned to clouds of flowers?
That's how the day came with its pomegranate seeds
and street screams; the priest who walked us last night
through the Armenian quarter was missing by noon.
The sky over the courtyard of Forty Martyrs Church
was frozen blue, ringing with AK-47s
and bells that my grandmother heard in another day.
We left our bags in the bedroom and wound
up in the boom-box café where workers in camouflage
slumped over coffee and sweet pistachios.
We rolled some parchment-thin pita
in our pockets, grabbed the cracked olives.
You ran into an empty building; I stayed
until the jeeps and soldiers left and some
of my Armenian friends came out with jars of water.
A tank was rusted out—some cameras were still hanging
from fences. Some fences rolled along the horizon.
Copyright ©:
2015, University of Chicago Press
Last updated February 20, 2023