by Alfred Austin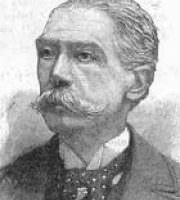 Dearest, I know thee wise and good,
Beloved by all the best;
With fancy like Ithuriel's spear,
A judgment proof 'gainst rage or fear,
Heart firm through many a stormy year,
And conscience calm in rest.
Why should I let my wayward feet
Cross the fair threshold of thy life?
My hopes and cares of little worth
Drag down thy heavenlier part to earth,
And, like strange discord marring mirth,
Fill thy sweet soul with strife?
But though such fears will cloud my brain,
Nay, though stern Time their truth should prove,
Yet none the less I bid thee take
My life into thine own, forsake
Thy high heart, bid it beat and break,
Like mine, but, like mine, love!
Last updated January 14, 2019