by Alfred Austin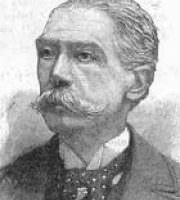 Give me thy heart, I leave thee mine;
But oh! till next our pulses meet,
May my fond spirit round thee shine,
Absorb thy soul and guide thy feet,
And then no more my passion pine,
My bosom idly beat.
I have thy pledge, yet take it back
If ever for a moment thou
In sweet resolve shouldst prove less slack
Than I, at parting, leave thee now.
Love's steady light must mark our track,
And not a flickering vow.
But if, when, past this parting ache,
I gaze upon thy face once more,
Thou still Love's burning thirst wouldst slake,
Still to Love's topmost heights wouldst soar;
Oh! then my life's full tide shall break
On thee, as on its shore.
Last updated January 14, 2019