by Khaled Mattawa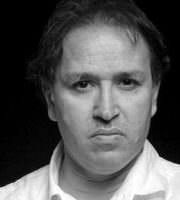 My mother forgets to feed her animals
because it's only fair.
She rushes to them when
she hears hoarse roosters crowing
and billy goats butting
over a last straw.
This month the moon becomes a princess.
The stars fan her,
Jupiter pours cups of wine,
Mars sings melancholy mawals.
Bearded men holding prayer beads
and yellow booklets stare at her
and point aching fingers at her waist.
In our house we break a fast
with dates from Huun
and glasses of buttermilk.
Then on to bowls of lamb soup
flavored with mint, trays
of stuffed grape leaves,
spiced fava beans drenched
in olive oil and lemon juice.
And that is only the beginning.
The spirits of Johnny Walker and gin
hide in the trunks of white Peugeots.
In the nightclubs of my city, waiters
serve only non-alcoholic beer
and belly dancers cover themselves.
Father of sixteen children, our neighbor
visits bringing two kilos of baklava.
He washes them down with a dozen
demitasses of sweet sage tea.
Before dawn he runs to one
of his two wives, both named Salma,
and loves her hurriedly,
his hands barely touching a breast.
Copyright ©:
1995 Khaled Mattawa & The Sheep Meadow Press
Last updated June 28, 2015