by Joseph Ignatius Constantine Clarke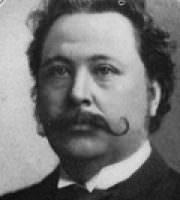 "Well thou answerest, steed; well thou answerest!
Keeping time to thy hoof-beats my heart beats,
Tramping louder as faster the sparks fly,
Gallop on like a Valkyr, still gallop on.
Hollow thunder thou mak'st on the turf-land;
As a javelin we speed by the timber;
In the open thy hoof-tramps beat louder,
While the dust rises up to the smoke-cloud.
Eager, oh, eager my soul and my stallion;
Touch but the earth as thou spurn st it, uplifting;
In the heart of thy rider such speeding
And striding and reaching, that never yet
Steed for his master could tramp on as fast
As the hurricane wild of desire sweeps him
Onward, enwrapping him, urging him on
To where, leaping and roaring, flame-welcome
Waits him the fire of my love or the torch
Of disaster. To the fire! To the flame!
Oh, gallantly, valiantly thunderest thou.
Fast are we rising; the shadows grow thin.
Twenty strides and we'll gaze on Moyla's Hill,
Whence comes the hot breath of the stifling wind.
Now, slower, good steed.
Last updated June 03, 2017