by Raymond Antrobus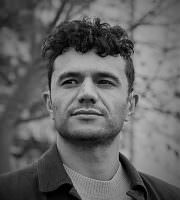 And what comes out if it isn't the wires
dad welds to his homemade sound system
which I accidently knock loose
while he is recording Talk-Over dubs, killing
the bass, flattening the mood and his muses
making dad blow his fuses and beat me.
It wasn't my fault, the things he made
could be undone so easily –
and we would keep losing connection.
But I praise my dad's mechanical hands –
even though he couldn't fix my deafness
I channel him. My sound system plays
on Father's Day in Manor Park Cemetery
where I find his grave, and for the first time
see his middle name Osbert, derived from Old English
meaning God, and Bright. Which may have
been a way to bleach him, darkest
of his five brothers, the only one sent away
from the country to live uptown
with his light skin aunt. She protected him
from police who didn't believe he belonged
unless they heard his English,
which was smooth as some uptown roads.
His aunt loved him and taught him
to recite Wordsworth and Coleridge – rhythms
that wouldn't save him. He would become
Rasta and never tell a soul about the name
that undid his blackness. It is his grave
that tells me the name his black
body, even in death, could not move or mute.
Copyright ©:
Raymond Antrobus
Last updated December 07, 2022