by Robert Greene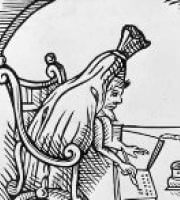 P. From [Greene's] Orpharion (1599)
[Greenes Orpharion.
Wherin is discoue-
red a musicall concorde of pleasant
Histories, many sweet moodes graced with
such harmonious discords,
as agreeing in a delight-
full closse, they sound both pleasure and profit
to the eare.
Heerein also as in a Diateheron, the branches of Vertue,
ascending and descending by degrees: are covnited in
the glorious praise of women-kind.
With diuers Tragicall and Comicall Histories
Presented by Orpheus and Arion , being as full of
profit as of pleasure.
Omne tulit punctum, qui miscuit vtile dulci.
Robertus Greene, in Artibus Magister ./
Last updated January 14, 2019