by Robert Laurence Binyon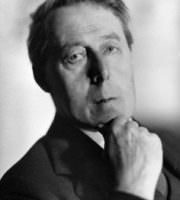 As I walked through London,
The fresh wound burning in my breast,
As I walked through London,
Longing to have forgotten, to harden my heart, and to rest,
A sudden consolation, a softening light
Touched me: the streets alive and bright,
With hundreds each way thronging, on their tide
Received me, a drop in the stream, unmarked, unknown.
And to my heart I cried:
Here can thy trouble find shelter, thy wound be eased!
For see, not thou alone,
But thousands, each with his smart,
Deep--hidden, perchance, but felt in the core of the heart!
And as to a sick man's feverish veins
The full sponge warmly pressed,
Relieves with its burning the burning of forehead and hands,
So, I, to my aching breast,
Gathered the griefs of those thousands, and made them my own;
My bitterest pains
Merged in a tenderer sorrow, assuaged and appeased.
Last updated January 14, 2019