by Sharon Olds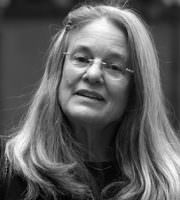 When I eat crab, slide the rosy
rubbery claw across my tongue
I think of my mother. She'd drive down
to the edge of the Bay, tiny woman in a
huge car, she'd ask the crab-man to
crack it for her. She'd stand and wait as the
pliers broke those chalky homes, wild-
red and knobby, those cartilage wrists, the
thin orange roof of the back.
I'd come home, and find her at the table
crisply unhousing the parts, laying the
fierce shell on one side, the
soft body on the other. She gave us
lots, because we loved it so much,
so there was always enough, a mound of crab like a
cross between breast-milk and meat. The back
even had the shape of a perfect
ruined breast, upright flakes
white as the flesh of a chrysanthemum, but the
best part was the claw, she'd slide it
out so slowly the tip was unbroken,
scarlet bulb of the feeler—it was such a
kick to easily eat that weapon,
wreck its delicate hooked pulp between
palate and tongue. She loved to feed us
and all she gave us was fresh, she was willing to
grasp shell, membrane, stem, to go
close to dirt and salt to feed us,
the way she had gone near our father himself
to give us life. I look back and
see us dripping at the table, feeding, her
row of pink eaters, the platter of flawless
limp claws, I look back further and
see her in the kitchen, shelling flesh, her
small hands curled—she is like a
fish-hawk, wild, tearing the meat
deftly, living out her life of fear and desire.
Last updated May 02, 2015