by Sharon Olds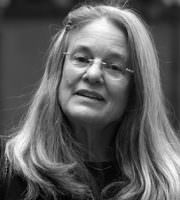 Three months after he lies dead, that
long yellow narrow body,
not like Christ but like one of his saints,
the naked ones in the paintings whose bodies are
done in gilt, all knees and raw ribs,
the ones who died of nettles, bile, the
one who died roasted over a slow fire—
three months later I take the pot of
tulip bulbs out of the closet
and set it on the table and take off the foil hood.
The shoots stand up like young green pencils,
and there in the room is the comfortable smell of rot,
the bulb that did not make it, marked with
ridges like an elephant's notched foot,
I walk down the hall as if I were moving through the
long stem of the tulip toward the closed sheath.
In the kitchen I throw a palmful of peppercorns into the
saucepan
as if I would grow a black tree from the soup,
I throw out the rotten chicken part,
glad again that we burned my father
before one single bloom of mold could
grow up
out of him,
maybe it had begun in his bowels but we burned his
bowels
the way you burn the long blue
scarf of the dead, and all their clothing,
cleansing with fire. How fast time goes
now that I'm happy, now that I know how to
think of his dead body every day
without shock, almost without grief,
to take it into each part of the day the
way a loom parts the vertical threads,
half to the left half to the right like the Red Sea and you
throw the shuttle through with the warp-thread
attached to the feet, that small gold figure of my father—
how often I saw him in paintings and did not know him,
the tiny naked dead one in the corner,
the mortal one.
Last updated May 02, 2015