by Sylvie Baumgartel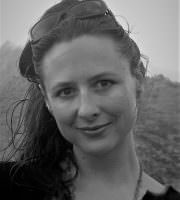 A day of Prosecco & maps.
You inhaled the musk from my hair.
You drove my childhood curves;
I dressed in the part.
I rode shotgun in
Your dead father's Porsche.
The car he never lived to drive.
The car he never could afford.
Tupac took us up to the hill town,
Bach Fugues brought us down.
They say the first witch ever,
Daughter of the huntress Diana &
The Devil himself, was born
& cast her spells here. The church
Tortured her & stretched her
Out on a stretching frame.
You said you liked Rosso Fiorentino's
Deposition because it's so simple.
But the green & smiling god
Collapsing in the painting you need,
Is actually the most complicated
Thing in the world.
The body is being removed from
That which defined it.
Last updated November 08, 2022