by William Ellery Leonard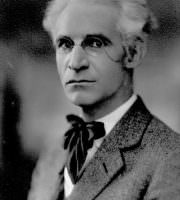 I met you first, when once for livelihood
I roamed Broadway, a vagrant from the boat,
A song of life for sale within my coat,
My soul on fire for all things large and good;
And there before your desk of walnut wood
With wide-spread shanks you smoked your pipe and wrote
One of those quips the smart set loves to quote,
And looking round leered at me where I stood,
A dreamer and a lover. . . .
I marked your beard,
Frizzled and brown, your cold gray eyes, the tone
That meant " I rate men merely as the herd
May serve my turn — what is it? " As one reared
Among the mountains, conscious of mine own,
I bowed and went my ways without a word.
Last updated May 20, 2019