by William Faulkner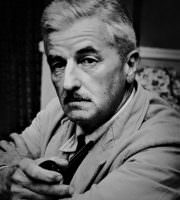 Over the world's rim, drawing bland November
Reluctant behind them, drawing the moons of cold:
What do their lonely voices wake to remember
In this dust ere 'twas flesh? what restless old
Dream a thousand years was safely sleeping
Wakes my blood to sharp unease? what horn
Rings out to them? Was I free once, sweeping
Their Ewild and lonely skies ere I was born?
The hand that shaped my body, that gave me vision,
Made me a slave to clay for a fee of breath.
Sweep on, O wild and lonely: mine the derision,
Then the splendor and speed, the cleanness of death.
Over the world's rim, out of some splendid noon,
Seeking some high desire, and not in vain,
They fill and empty the red and dying moon
And, crying, cross the rim of the world again.
Last updated October 15, 2022