by William Faulkner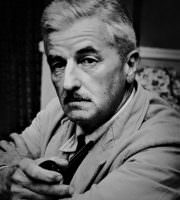 The race's splendor lifts her lip, exposes
Amid her scarlet smile her little teeth;
The years are sand the wind plays with; beneath
The prisoned music of her deathless roses.
Within frostbitten rock she's fixed and glassed;
Now man may look upon her without fear.
But her contemptuous eyes back through him stare
And shear his fatuous sheep when he has passed.
Lilith she is dead and safely tombed
And man may plant and prune with naught to bruit
Hie heired and ancient lot to which he's doomed,
For quiet drowse the flocks when wolf is mute—
Ay, Lilith she is dead, and she is wombed,
And break his vine, and slowly eats the fruit.
Last updated October 15, 2022