by William Somervile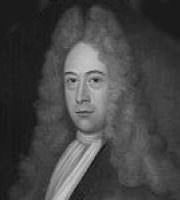 ON THE FIRST EDITION OF HIS SEASONS .
So bright, so dark, upon an April day
The sun darts forth, or hides his various ray;
So high, so low, the lark aspiring sings,
Or drops to earth again with folded wings;
So smooth, so rough, the sea that laves our shores
Smiles in a calm, or in a tempest roars.
Believe me, Thomson! 'tis not thus I write,
Severely kind, by envy sour'd or spite;
Nor would I rob thy brows to grace my own;
Such arts are to my honest soul unknown.
I read thee over as a friend should read,
Griev'd when you fail, o'erjoy'd when you succeed.
Why should thy Muse, born so divinely fair,
Want the reforming toilette's daily care?
Dress the gay maid, improve each native grace,
And call forth all the glories of her face:
Studiously plain, and elegantly clean,
With unaffected speech and easy mien,
The accomplish'd nymph, in all her best attire,
Courts shall applaud, and prostrate crowds admire.
Discreetly daring, with a stiffen'd rein,
Firm in thy seat, the flying steed restrain.
Though few thy faults, who can perfection boast?
Spots in the sun are in his lustre lost;
Yet ev'n those spots expunge with patient care,
Nor fondly the minutest error spare;
For kind and wise the parent who reproves
The slightest blemish in the child he loves.
Read Philips much, consider Milton more;
But from their dross extract the purer ore.
To coin new words, or to restore the old,
In southern bards is dangerous and bold,
But rarely, very rarely, will succeed,
When minted on the other side of Tweed.
Let perspicuity o'er all preside —
Soon shalt thou be the nation's joy and pride:
The rhyming, jingling tribe, with bells and song,
Who drive their limping Pegasus along,
Shall learn from thee in bolder flights to rise,
To scorn the beaten road, and range the skies.
A genius so refin'd, so just, so great,
In Britain's isle shall fix the Muses' seat,
And new Parnassus shall at home create:
Rules from thy works each future bard shall draw,
Thy works, above the critic's nicer law,
And rich in brilliant gems without a flaw.
Last updated October 28, 2017