by William Somervile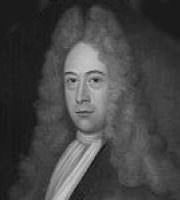 Where fair Sabrina's wand'ring currents flow,
A large smooth plain extends its verdant brow;
Here ev'ry morn, while fruitful vapours feed
The swelling blade and bless the smoking mead,
A cruel tyrant reigns: like Time, the swain
Whets his unrighteous scythe, and shaves the plain.
Beneath each stroke the peeping flow'rs decay,
And all th' unripened crop is swept away.
The heavy roller next he tugs along,
Whiffs his short pipe, or rears a rural song;
With curious eye then the pressed turf he views,
And ev'ry rising prominence subdues.
Now when each craving stomach was well stored,
And " Church and King" had travelled round the board,
Hither at Fortune's shrine to pay their court,
With eager hopes the motley tribe resort:
Attorneys spruce in their plate-buttoned frocks,
And rosy parsons, fat and orthodox;
Of ev'ry sect, Whigs, Papists and High-fliers,
Cornuted aldermen, and hen-pecked squires;
Foxhunters, quacks, scribblers in verse and prose,
And half-pay captains, and half-witted beaux.
On the green cirque the ready racers stand,
Disposed in pairs, and tempt the bowler's hand;
Each polished sphere does his round brother own,
The twins distinguished by their marks are known.
As the strong rein guides the well-managed horse,
Here weighty lead infused directs their course.
These in the ready road drive on with speed,
But those in crooked paths more artfully succeed.
So the tall ship, that makes some dang'rous bay,
With a side wind obliquely slopes her way.
Lo! there the silver tumbler fixed on high,
The victor's prize, inviting every eye!
The champions or consent or chance divide,
While each man thinks his own the surer side,
And the jack leads, the skilful bowler's guide.
Bendo stripped first; from foreign coasts he brought
A chaos of receipts, and anarchy of thought,
Where the tumultuous whims, to faction prone,
Still justled monarch Reason from her throne:
More dang'rous than the porcupine's his quill,
Inured to slaughter, and secure to kill.
Let loose, just heav'n, each virulent disease,
But save us from such murderers as these;
Might Bendo live but half a patriarch's age,
Th' unpeopled world would sink beneath his rage;
Nor need t' appease the just Creator's ire
A second deluge, or consuming fire.
He winks one eye, and knits his brow severe,
Then from his hand launches the flying sphere;
Out of the green the guiltless wood he hurled,
Swift as his patients from this nether world:
Then grinned malignant, but the jocund crowd
Deride his senseless rage, and shout aloud.
Next, Zadoc, 'tis thy turn, imperious priest!
Still late at church, but early at a feast.
No turkey-cock appears with better grace,
His garments black, vermilion paints his face;
His wattles hang upon his stiffened band,
His platter feet upon the trigger stand,
He grasps the bowl in his rough brawny hand.
Then squatting down, with his grey goggle-eyes
He takes his aim, and at the mark it flies.
Zadoc pursues, and wobbles o'er the plain,
But shakes his strutting paunch and ambles on in vain;
For oh! wide-erring to the left it glides,
The inmate lead the lighter wood misguides.
He sharp reproofs with kind entreaties joins,
Then on the counter side with pain reclines;
As if he meant to regulate its course
By pow'r attractive and magnetic force.
Now almost in despair, he raves, he storms,
Writhes his unwieldy trunk in various forms:
Unhappy Proteus! still in vain he tries
A thousand shapes, the bowl erroneous flies,
Deaf to his pray'rs, regardless of his cries.
His puffing cheeks with rising rage inflame,
And all his sparkling rubies glow with shame.
Bendo's proud heart, proof against Fortune's frown,
Resolves once more to make the prize his own;
Cautious he plods, surveying all the green,
And measures with his eye the space between.
But as on him 'twas a peculiar curse
To fall from one extreme into a worse,
Conscious of too much vigour, now for fear
He should exceed, at hand he checks the sphere.
Soon as he found its languid force decay,
And the too weak impression die away,
Quick after it he scuds, urges behind
Step after step, and now, with anxious mind,
Hangs o'er the bowl slow-creeping on the plain,
And chides its faint efforts, and bawls amain.
Then on the guiltless green the blame to lay,
Curses the mountains that obstruct his way;
Brazens it out with an audacious face,
His insolence improving with disgrace.
Zadoc, who now with three black mugs had cheered
His drooping heart, and his sunk spirits reared,
Advances to the trig with solemn pace,
And ruddy hope sits blooming on his face.
The bowl he poised, with pain his hams he bends,
On well-chose ground unto the mark it tends:
Each adverse heart pants with unusual fear,
With joy he follows the propitious sphere.
Alas! how frail is ev'ry mortal scheme!
We build on sand, our happiness a dream.
Bendo's short bowl stops the proud victor's course,
Purloins his fame, and deadens all its force.
At Bendo from each corner of his eyes
He darts malignant rays, then mutt'ring flies
Into the bow'r; there, panting and half-dead,
In thick mundungus clouds he hides his head.
Last updated October 28, 2017