by Laurence Hope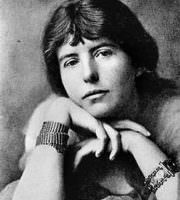 Lie still, Beloved, I also see the day
Shoot his white arrows through the trembling sky,
But what is dawn to us, who cast away
All sense of time that mars our ecstasy ?
The scented orange bushes check the breeze
Granting in tribute many waxen stars,
And aromatic Eucalyptus trees
Defy the sun with grey-green scimitars.
Since fate has given us this garden love,
And Time and Space, for once, have acquiesced,
Ah, take no heed of paling skies above
Let us deem night is with us yet, and rest.
Let us lie still and drift away in dreams.
Back to the jewelled kingdom of the night.
Whose golden stars with dimly radiant gleams
Lit up your loveliness for my delight.
Once we are risen all the cares of day
Will seize and bind us to their wanton will.
Why should we own that night has passed away ?
Oh, as you value love, lie still, lie still!
Last updated January 14, 2019