by Arthur Chapman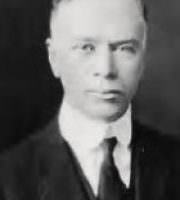 Things is quiet, here in Cactus, and our bullyvards now lack
The brisk, upliftin' infloo'nce of the forty-five's loud crack;
There's three doctors and some nusses, all the way from San Antone,
And they're patchin' up the leavin's of a Valentine cyclone.
It was all because Bear Hawkins, who's some clever with the pen,
Drew a bunch o' comic picters of our foremost fightin' men;
He cartooned Windy Porter as a sheep in cowboy's clothes
And he handed worse to others 'fore he hails the stage and blows.
It was n't many minutes 'fore the post-office was filled
With a seethin' bunch a-thirstin' fer to see an artist killed;
They did n't think o' Hawkins, fer he'd covered up his play,
So they fell to argumentin', in a gin'ral sort o' way.
The wrecked the gov'ment boxes, and they bloodied up the floor--
It was freshly laid with sawdust, and the P. M. ripped and swore--
And they used the doors and shutters and then tore the big sign down
Fer to bear away the wounded when the smoke had left the town.
So we ain't too strong in Catcus on this comic picter bix,
And we're waitin' fer Bear Hawkins jest to tip off where he is,
But he keeps hisself in hidin', though he sent us this one line--
"I still love you, Cactus Center--won't you be my valentine?"
Last updated February 10, 2018