by Bob Kaufman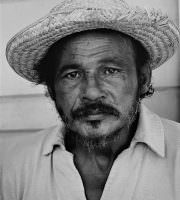 ABOMUNISTS JOIN NOTHING BUT THEIR HANDS OR LEGS, OR
OTHER SAME.
ABOMUNISTS SPIT ANTI-POETRY FOR POETIC REASONS AND
FRINK.
ABOMUNISTS DO NOT LOOK AT PICTURES PAINTED BY PRESI-
DENTS AND UNEMPLOYED PRIME MINISTERS.
IN TIMES OF NATIONAL PERIL, ABOMUNISTS, AS REALITY AMERI-
CANS, STAND READY TO DRINK THEMSELVES TO DEATH FOR
THEIR COUNTRY.
ABOMUNISTS DO NOT FEEL PAIN, NO MATTER HOW MUCH IT
HURTS.
ABOMUNISTS DO NOT USE THE WORD SQUARE EXCEPT WHEN
TALKING TO SQUARES.
ABOMUNISTS READ NEWSPAPERS ONLY TO ASCERTAIN THEIR
ABOMINUBILITY.
ABOMUNISTS NEVER CARRY MORE THAN FIFTY DOLLARS IN
DEBTS ON THEM.
ABOMUNISTS BELIEVE THAT THE SOLUTION TO PROBLEMS OF
RELIGIOUS BIGOTRY IS, TO HAVE A CATHOLIC CANDIDATE
FOR PRESIDENT AND A PROTESTANT CANDIDATE FOR POPE.
ABOMUNISTS DO NOT WRITE FOR MONEY; THEY WRITE THE
MONEY ITSELF.
ABOMUNISTS BELIEVE ONLY WHAT THEY DREAM ONLY AFTER
IT COMES TRUE.
ABOMUNIST CHILDREN MUST BE REARED ABOMINUBLY.
ABOMUNIST POETS, CONFIDENT THAT THE NEW LITERARY FORM
"FOOT-PRINTISM" HAS FREED THE ARTIST OF OUTMODED
RESTRICTIONS, SUCH AS: THE ABILITY TO READ AND WRITE,
OR THE DESIRE TO COMMUNICATE, MUST BE PREPARED TO
READ THEIR WORK AT DENTAL COLLEGES, EMBALMING
SCHOOLS, HOMES FOR UNWED MOTHERS, HOMES FOR WED
MOTHERS, INSANE ASYLUMS, SANE ASYLUMS, U. S. O. CAN-
TEENS, KINDERGARTENS, AND COUNTY JAILS. ABOMUNISTS
         NEVER COMPROMISE THEIR REJECTIONARY PHILOSOPHY.
ABOMUNISTS REJECT EVERYTHING EXCEPT SNOWMEN.
Last updated December 15, 2022