by Bob Kaufman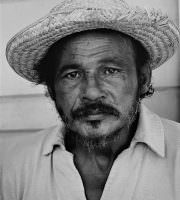 THE NIGHT THAT LORCA COMES
SHALL BE A STRANGE NIGHT IN THE
SOUTH, IT SHALL BE THE TIME WHEN NEGROES LEAVE THE
SOUTH
FOREVER,
GREEN TRAINS SHALL ARRIVE
FROM RED PLANET MARS
CRACKLING BLUENESS SHALL SEND TOOTH-COVERED CARS FOR
THEM
TO LEAVE IN, TO GO INTO
THE NORTH FOREVER, AND I SEE MY LITTLE GIRL MOTHER
AGAIN WITH HER CROSS THAT
IS NOT BURNING, HER SKIRTS
OF BLACK, OF ALL COLORS, HER AURA
OF FAMILIARITY. THE SOUTH SHALL WEEP
BITTER TEARS TO NO AVAIL,
THE NEGROES HAVE GONE
INTO CRACKLING BLUENESS.
CRISPUS ATTUCKS SHALL ARRIVE WITH THE BOSTON
COMMONS, TO TAKE ELISSI LANDI
NORTH, CRISPUS ATTUCKS SHALL
BE LAYING ON BOSTON COMMONS,
ELISSI LANDI SHALL FEEL ALIVE
AGAIN. I SHALL CALL HER NAME
AS SHE STEPS ON TO THE BOSTON
COMMONS, AND FLIES NORTH FOREVER,
LINCOLN SHALL BE THERE,
TO SEE THEM LEAVE THE
SOUTH FOREVER, ELISSI LANDI, SHE WILL BE
GREEN.
THE WHITE SOUTH SHALL GATHER AT
PRESERVATION HALL.
Last updated December 15, 2022