by Bob Kaufman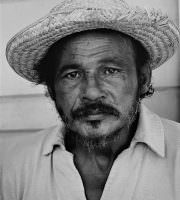 On yardbird corners of embryonic hopes, drowned in a heroin tear.
On yardbird corners of parkerflights to sound filled pockets in space.
On neuro-corners of striped brains & desperate electro-surgeons.
On alcohol corners of pointless discussion & historical hangovers.
On television corners of cornflakes & rockwells impotent America.
On university corners of tailored intellect & greek letter openers.
On military corners of megathon deaths & universal anesthesia.
On religious corners of theological limericks and
On radio corners of century-long records & static events.
On advertising corners of filter-tipped ice-cream & instant instants
On teen-age corners of comic book seduction and corrupted guitars,
On political corners of wamted candidates & ritual lies.
On motion picture corners of lassie & other symbols.
On intellectual corners of conversational therapy & analyzed fear.
On newspaper corners of sexy headlines & scholarly comics.
On love divided corners of die now pay later mortuaries.
On philosophical corners of semantic desperadoes & idea-mongers.
On middle class corners of private school puberty & anatomical revolts
On ultra-real corners of love on abandoned roller-coasters
On lonely poet corners of low lying leaves & moist prophet eyes.
Last updated May 02, 2015