by Bob Kaufman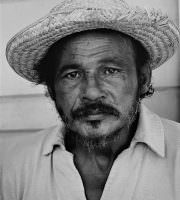 Where the string
At
some point,
Was umbilical jazz,
Or perhaps,
In memory,
A long lost bloody cross,
Buried in some steel cavalry.
In what time
For whom do we bleed,
Lost notes, from some jazzman's
Broken needle.
Musical tears from lost
Eyes.
Broken drumsticks, why?
Pitter patter, boom dropping
Bombs in the middle
Of my emotions
My father's sound
My mother's sound,
Is love,
Is life.
Last updated May 02, 2015