by David Lehman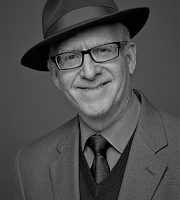 He woke up in New York City on Valentine's Day,
Speeding. The body in the booth next to his was still warm,
Was gone. He had bought her a sweater, a box of chocolate
Said her life wasn't working he looked stricken she said
You're all bent out of shape, accusingly, and when he
She went from being an Ivy League professor of French
To an illustrator for a slick midtown magazine
They agreed it was his fault. But for now they needed
To sharpen to a point like a pencil the way
The Empire State Building does. What I really want to say
To you, my love, is a whisper on the rooftop lost in the wind
And you turn to me with your rally cap on backwards rooting
For a big inning, the bases loaded, our best slugger up
And no one out, but it doesn't work that way. Like the time
Kirk Gibson hit the homer off Dennis Eckersley to win the game:
It doesn't happen like that in fiction. In fiction, we are
On a train, listening to a storyteller about to reach the climax
Of his tale as the train pulls into Minsk, his stop. That's
My stop, he says, stepping off the train, confounding us who
Can't get off it. "You can't leave without telling us the end,"
We say, but he is already on the platform, grinning.
"End?" he says. "It was only the beginning."
Last updated May 02, 2015