by Dollie Radford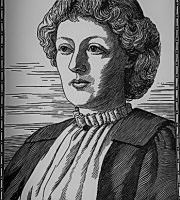 GREETING dear friend, through shower and sun,
From me to you, since '91
Is safely buried, dead and done.
And a young year completely new,
Scarcely remarked by me or you,
Stretches before us--'92--
To make or mar in, as may be,
To march through boldly, strong and free,
Or skulk in, until '93.
Ah no, my New Year was not born
Of frost, or flourish of fog-horn,
But of the fairest summer morn,
And stretches onward without end,
Through all the years I have to spend,
Still, greeting all the same dear friend.
Last updated November 17, 2022