by Don Blanding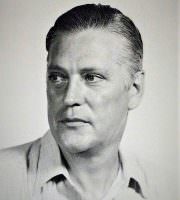 I am the ageless Bird of Evil Flame.
Eve knew my name.
With bitter tears she tried to quench the spark
Of envy in her son's bewildered heart. The dark
Fumes, stirred by my swift subtle wings,
Clouded his eyes with acrid billowings
Until the tragic flood.
Of brother's blood
Left its indelible stain ...
The Mark of Cain.
I am the Great Incendiary,
My swift flights carry
The ember to the flame, the flame to burning brand
Until a fiery scourge consumes a stricken land.
I feed ambition's fire,On its red raging pyre
A nation's honor burns to smouldering ash,
My pinions lash
The coals of racial hatreds into cruel
Tyrannies of blood-lust, spilling the fuel
Of lies, the quick inflaming dust
Until the flames that flicker through the crust
Of Hell are flaring in each race and nation.
I am the Endless Conflagration.
I am the sullen cinder,
The inflammable tinder,
I am not quenched, but fed, by tears.
These years of war have been my greatest years.
Peace thinks she buried me ... the grave is shallow.
The clods that weight my wings are waiting, fallow,
For seeds of flame sown by my fertile breath.
The seeds are fear and greed, the harvest Death.
I am Delirium, the Insidious Fever,
I am the ultimate Deceiver,
I am the ageless Bird of Evil Flame.
You know my name.
Last updated November 17, 2022