by Don Blanding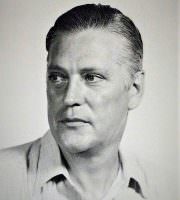 Hollywood Boulevard... Hollywood Boulevard
Quite unbelievable, gay-wild-and-woolyvard.
Overgrown Main Street, slightly inane street,
Frivolous, drivelous, frothy and vain street.
Not quite as bawdy and gaudy as Broadway
But far better known than that publicized Fraud-Way.
Simple, in some ways, as any small village street
And yet it's as hardboiled as New York's big thrillage street.
Diamonds and dungarees, barefoot and wedges,
Satin brocade that is frayed at the edges,
A funny fantasia, frantic and furious,
Blending of genuine, phony and spurious.
Hollywood's Super-Colossal production
Of pathos and beauty, of sin and seduction.
...
Last updated November 17, 2022