by Don Blanding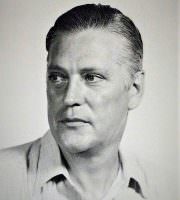 Florida thrust like a guiding thumb
To the southern islands of rumba and rum,
To the mystery cities and haunted seas
Of the Spanish Main and the Caribbees.
Where the ghosts of Columbus and Pirates Bold
Seek the Islands of Spice and the Streets of Gold,
Where the wandering phantom of Ku-Kul-Kan
Haunts the temples he builded in Yucatan,
Where the jaguars prowl and the lizards crawl
On a broken altar and sculptured wall,
Where the Mayan rulers in arrogant pride
Dreamed and schemed and suffered and died.
The inlaid thrones and the sacred urns
Are filled with orchids and stag-horn ferns,
The witching moon of the tropic skies
Caresses the lips and the dead stone eyes
Of fallen idols of lust and blood
That lie in the mold and reeking mud
Of fever-jungles. The dust and bones
Of men who quarried and laid the stones
Of fabulous cities are turned to earth.
The echoes of prayers and chants and mirth
Of vanished people and priests and kings
Are heard in the night-wind's whisperings.
The seas and straits and bays and coves,
The peaks and the valleys and swamps and groves
Hold ruins of dreams that were dreamed by men
In centuries lost and beyond our ken.
There are names that were spoken by long-dead lips
Of men who came in their gallant ships…
Last updated November 17, 2022