by Don Blanding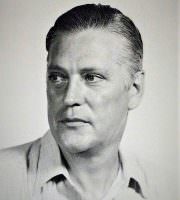 With seven flowery chains we two are held,
With seven strands of sensuous delight,
Together through this madly wondrous night.
I love my bonds, more firmly will I weld
Each fragile link into another chain.
And if it breaks I'll fasten it again.
The sight of you is gladness to my eyes;
The fragrance of your hair is on my hands;
Your lips…their constant touch my mouth demands;
I crave to hear the yielding of your sighs,
To taste the wine of passion thrice distilled
From ecstasy before the cup is spilled.
And that sixth sense which tells that Gods are near
Will warn us of their envy. Our defense
Will be the last delightful seventh sense,
Gay nonsense as a mask to hide our fears.
And if we tire of our flowery strands,
Dear, let us loose them then with friendly hands.
Last updated November 17, 2022