by Edgar Albert Guest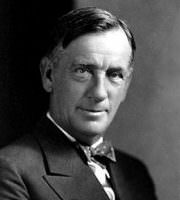 To us the Flag has little meant.
Each glorious stripe of red
Was woven there to represent
The blood of heroes dead.
On some dim, distant battle line
By other men were gained
The glories that have made it fine,
And idle we've remained.
But now the Flag shall finer grow
And ages yet to be
Shall find the courage that we show
To-day for liberty.
Of other men the Flag has told;
It flies for others' deeds;
Its pride is born of heroes bold
Who served its by-gone needs.
But now our blood shall mingle there
With blood of patriots dead,
And through the years each stripe shall wear
A deeper, truer red.
The splendor of the flag shall gleam
In every radiant star,
And finer shall the banner seem
Because of what we are.
To-day new glory for the Flag
We give our best to build;
Of us shall future ages brag,
By us their blood be thrilled;
And as to us the flag has meant
The greatness of the past,
The Stars and Stripes shall represent
Our courage to the last.
The children in the years to be
Our trials shall discuss,
And cheer the emblem of the free,
In part, because of us.
Last updated January 14, 2019