by Edgar Albert Guest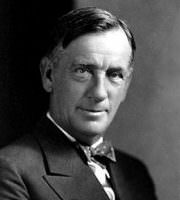 JUST about the time the clouds are blackest
Let your thoughts go roving to the sun,
Just about the time your job is hardest
Think how glad you'll be when it is done.
Buckle to the task that you are facing,
Work away and pretty soon you'll find
All the little difficulties vanished,
All the little worries far behind.
'T isn't any use to sit and whimper,
Doesn't help a bit to sit and sigh,
Lose yourself in working out the problem,
If it's hard just buckle in and try.
Don't waste time in thinking what may happen,
Plug along and do the best you can,
That's the way to show the stuff you 're made of,
That's the way to prove yourself a man.
Last updated January 14, 2019