by Edgar Albert Guest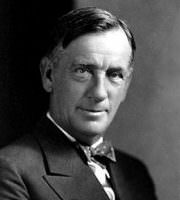 The biggest moment in our lives was that when first he cried,
From that day unto this, for him, we've struggled side by side.
We can recount his daily deeds, and backwards we can look,
And proudly live again the time when first a step he took.
I see him trudging off to school, his mother at his side,
And when she left him there alone she hurried home and cried.
And then the sturdy chap of eight that was, I proudly see,
Who packed a little grip and took a fishing trip with me.
Among the lists of boys to go his name has now appeared;
To us has come the sacrifice that mothers all have feared;
And though we dread the parting hour when he shall march away,
We love him and the Flag too much to ask of him to stay.
His baby ways shall march with him, and every joy we've had,
Somewhere in France some day shall be a little brown-eyed lad;
A toddler and a child at school, the chum that once I knew
Shall wear our country's uniform, for they've been drafted, too.
Last updated January 14, 2019