by Edgar Albert Guest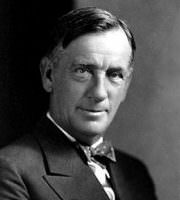 Though some may yearn for titles great, and seek the frills of fame,
I do not care to have an extra handle to my name.
I am not hungry for the pomp of life's high dignities,
I do not sigh to sit among the honored LL. D.'s.
I shall be satisfied if I can be unto the end,
To those I know and live with here, a simple, first-name friend.
There's nothing like the comradeship which warms the lives of those
Who make the glorious circle of the Jacks and Bills and Joes.
With all his majesty and power, Old Caesar never knew
The joy of first-name fellowship, as all the Eddies do.
Let them who will be "mistered" here and raised above the rest;
I hold a first-name greeting is by far the very best.
Acquaintance calls for dignity. You never really know
The man on whom the terms of pomp you feel you must bestow.
Professor William Joseph Wise may be your friend, but still
You are not certain of the fact till you can call him Bill.
But hearts grow warm and lips grow kind, and all the shamming ends,
When you are in the company of good old first-name friends.
The happiest men on earth are not the men of highest rank;
That joy belongs to George, and Jim, to Henry and to Frank;
With them the prejudice of race and creed and wealth depart,
And men are one in fellowship and always light of heart.
So I would live and laugh and love until my sun descends,
And share the joyous comradeship of honest first-name friends.
Last updated January 14, 2019