by Edgar Albert Guest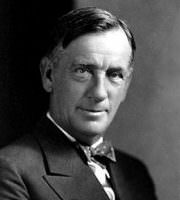 They have said you needn't go to the front to face the foe;
They have left you with your women and your children safe at home;
They have spared you from the crash of the murderous guns that flash
And the horrors and the madness and the death across the foam.
But it's your fight, just the same, and your country still must claim
The splendor of your manhood and the best that you can do;
In a thousand different ways through the dark and troubled days,
You must stand behind the nation that has been so good to you.
You're exempt from shot and shell, from the havoc and the hell
That have robbed the world of gladness; you have missed the sterner fate
Of the brave young men and fine, that are falling into line,
You may stay among your children who are swinging on the gate.
But you're not exempt from love of the Flag that flies above,
You've a greater obligation to your country to be true;
You must work from day to day in a bigger, better way
For the glory of the nation that has been so good to you.
You are not exempt from trial, from long days of self-denial,
From devotion to your homeland and from courage in the test.
You are not exempt from giving to your country's needs and living
As a citizen and soldier-an example of the best.
You've a harder task before you than the boys who're fighting for you,
You must match their splendid courage and devotion through and through;
You must prove by fine endeavor, and by standing constant ever
That you're worthy of the country that has been so good to you.
Last updated January 14, 2019