by Edgar Albert Guest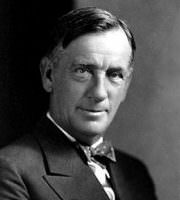 I've sipped a rich man's sparkling wine,
His silverware I've handled.
I've placed these battered legs of mine
'Neath tables gayly candled.
I dine on rare and costly fare
Whene'er good fortune lets me,
But there's no meal that can compare
With those the missus gets me.
I've had your steaks three inches thick
With all your Sam Ward trimming,
I've had the breast of milk-fed chick
In luscious gravy swimming.
To dine in swell cafe or club
But irritates and frets me;
Give me the plain and wholesome grub -
The grub the missus gets me.
Two kiddies smiling at the board,
The cook right at the table,
The four of us, a hungry horde,
To beat that none is able.
A big meat pie, with flaky crust!
'Tis then that joy besets me;
Oh, I could eat until I "bust,"
Those meals the missus gets me.
Last updated January 14, 2019