by George Arnold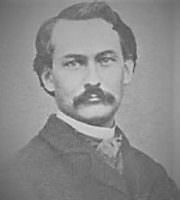 GREEN were the meadows with last summer's store;
The maples rustled with a wealth of leaves;
The brook went babbling to the pebbly shore,
Down by the old mill, with its cobwebbed door,
And swallow-haunted eaves;
And all the air was warm and calm and clear,
As if cold winter never could come near.
Now, the wide meadow-lands where then we strolled
Are misty with a waste of whirling snow:
The ruined maples, stripped of autumn's gold,
Sigh mournfully and shiver in the cold,
As the hoarse north-winds blow.
Yet something makes this frosty season dear,...
The Merry Merry Christmas time is here.
The Merry Christmas, with its generous boards,
Its fire-lit hearths, and gifts, and blazing trees,
Its pleasant voices uttering gentle words,
Its genial mirth, attuned to sweet accords,
Its holy memories!
The fairest season of the passing year,...
The Merry Merry Christmas time is here.
The sumacs by the brook have lost their red;
The mill-wheel in the ice stands dumb and still;
The leaves have fallen and the birds have fled;
The flowers we loved in summer all are dead,
And wintry winds blow chill.
Yet something makes this dreariness less drear,...
The Merry Merry Christmas time is here.
Since last the panes were hoar with Christmas frost
Unto our lives some changes have been given;
Some of our barks have labored, tempest-tossed,
Some of us, too, have loved, and some have lost,
Some found their rest in heaven.
So, humanly, we mingle smile and tear,
When Merry Christmas time is drawing near.
Then pile the fagots higher on the hearth,
And fill the cup of joy, though eyes be dim.
We hail the day that gave our Saviour birth,
And pray His spirit may descend on earth,
That we may follow Him.
'T is this that makes the Christmas time so dear:
Christ, in His love for us, seems drawing near.
Last updated September 17, 2022