by Gregory Sherl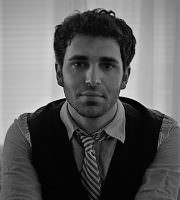 On the seventh day I drink everything iced.
God says Reasonable.
It's so hot I am sticking to every cow
I ride around Eden.
I wander around my computer,
sit in an egg colored chair.
I birth lobotomy.
I birth hips.
I birth boredom, concession stands,
anthropology.
I birth sunburn.
I birth electric toothbrushes.
I birth misery.
I birth a book with numbered women
doing things to my heart & everything
above & below it.
I tell her I am writing to remember.
I am writing to remember how lucky
I am to tell her I am writing to never
remember again.
I birth bombs.
I birth politicians.
I birth regret.
I birth custodians.
Last updated October 17, 2022