by Ivor Gurney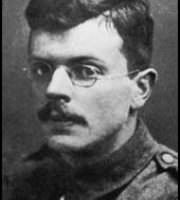 She was a village
Of lovely knowledge
The high roads left her aside, she was forlorn, a maid —
Water ran there, dusk hid her, she climbed four-wayed.
Brown-gold windows showed last folk not yet asleep;
Water ran, was a centre of silence deep,
Fathomless deeps of pricked sky, almost fathomless
Hallowed an upward gaze in pale satin of blue.
And I was happy indeed, of mind, soul, body even
Having got given
A sign undoubtful of a dear England few
Doubt, not many have seen,
That Will Squele he knew and was so shriven.
Home of Twelfth Night — Edward Thomas by Arras fallen,
Borrow and Hardy, Sussex tales out of Roman heights callen.
No madrigals or field-songs to my all reverent whim;
Till I got back I was dumb.
Last updated October 24, 2022