by Ivor Gurney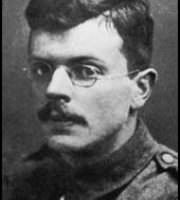 Life softly clanging cymbals were
Plane-trees, poplars Autumn had
Arrayed in gloriously sad
Garments of beauty wind-astir;
It was the day of all the dead -
Toussaints. In sombre twos and threes
Between those coloured pillars went
Drab mourners. Full of presences
The air seemed .. . ever and anon rent
By a slow bell's solemnities.
The past year's gloriously dead
Came, folk dear to that rich earth
Had given them sustenance and birth,
Breath and dreams and daily bread,
Took labour-sweat, returned them mirth.
Merville across the plain gleamed white,
The thronged still air gave never a sound,
Only, monotonous untoned
The bell of grief and lost delight.
Gay leaves slow fluttered to the ground.
Sudden, that sense of peace and prayer
Like vapour faded. Round the bend
Swung lines of khaki without end ...
Common was water, earth and air;
Death seemed a hard thing not to mend.
Last updated July 01, 2015