by Jacqueline Woodson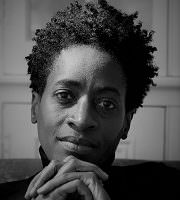 Ms. Marcus says that an occasional poem is a poem
written about something
important
or special
that's gonna happen
or already did.
Think of a specific occasion, she says—and write about it.
Like what?! Lamont asks.
He's all slouched down in his seat.
I don't feel like writing about no occasion.
How about your birthday? Ms. Marcus says.
What about it? Just a birthday. Comes in June and it ain't
June, Lamont says. As a matter of fact,
he says, it's January and it's snowing.
Then his voice gets real low and he says
And when it's January and all cold like this
feels like June's a long, long ways away.
The whole class looks at Ms. Marcus.
Some of the kids are nodding.
Outside the sky looks like it's made out of metal
and the cold, cold air is rattling the windowpanes
and coming underneath them too.
I seen Lamont's coat.
It's gray and the sleeves are too short.
It's down but it looks like a lot of the feathers fell out
a long time ago.
Ms. Marcus got a nice coat.
It's down too but real puffy so
maybe when she's inside it
she can't even tell January from June.
Then write about January, Ms. Marcus says, that's
an occasion.
But she looks a little bit sad when she says it
Like she's sorry she ever brought the whole
occasional poem thing up.
I was gonna write about Mama's funeral
but Lamont and Ms. Marcus going back and forth
zapped all the ideas from my head.
I guess them arguing
on a Tuesday in January's an occasion
So I guess this is an occasional poem.
Copyright ©:
2003, Puffin Books
Last updated November 25, 2022