by Jacqueline Woodson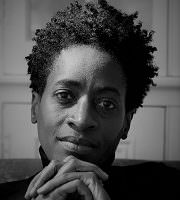 Every Monday, my mother takes us
to the library around the corner. We are allowed
to take out seven books each. On those days,
no one complains
that all I want are picture book.
Those days, no one tells me to read faster
to read harder books
to read like Dell.
No one is there to say, Not that book,
when I stop in front of the small paperback
with a brown boy on the cover.
Stevie.
I read:
One day my momma told me,
"You know you're gonna have
a little friend come stay with you."
And I said, "Who is it?"
If someone had been fussing with me
to read like my sister, I might have missed
the picture book filled with brown people, more
brown people than I'd ever seen
in a book before.
The little boy's name was Steven but
his mother kept calling him Stevie.
My name is Robert but my momma don't
call me Robertie.
If someone had taken
that book out of my hand
said, You're too old for this
maybe
I'd never have believed
that someone who looked like me
could be in the pages of the book
that someone who looked like me
had a story.
Copyright ©:
2014, Jacqueline Woodson
Last updated November 25, 2022